Pastor Clay Adkins Story – February 13, 2014
HELLO, MY NAME IS CLAY ADKINS. AS A MINISTER, I HAVE ALWAYS PREACHED HOW IMPORTANT IT IS TO HAVE FAITH IN GOD. THIS PAST YEAR HAS TRULY BEEN A TRYING OF MY FAITH. I WAS DIAGNOSED WITH RENAL CELL CARCINOMA (KIDNEY CANCER). IN MAY 2013 A PARTIAL NEPHRECTOMY WAS PERFORMED ON MY RIGHT KIDNEY. ON OCTOBER 3,2013 A PARTIAL NEPHRECTOMY WAS SCHEDULED FOR MY LEFT KIDNEY.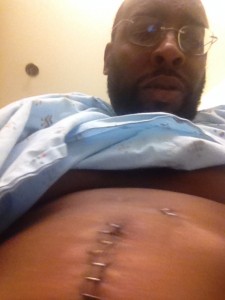 DURING THIS SURGERY MY ENTIRE LEFT KIDNEY WAS REMOVED AS THEY INDICATED THE CANCER HAD SPREAD. THIS WAS EXTREMELY DIFFiCULT FOR ME TO HANDLE. I SOUGHT THE COUNSEL OF MY PASTOR DIEGO MESA. PASTOR DIEGO; OF THE ABUNDANT LIVING FAMILY CHURCH TOOK TIME TO COUNSEL AND PRAY WITH ME. IN ADDITION, HE REFERRED ME TO THE DYNAMIC DUO DR. ANTHONY M. ANTONACCI (DR. TONY) AND LISA FIORE.
I TRULY DO NOT HAVE WORDS TO EXPRESS MY GRATITUDE FOR MEETING DR. TONY AND LISA. DURING MY INTIAL CONSULATION THEY WERE SO POSITIVE AND REASSURING THAT CANCER COULD BE DEFEATED. MY HEALTH CARE PROVIDER ONLY OFFERED THE POSSIBLITY OF REMOVING REMAINING KIDNEY AND WAITING AT LEAST SIX YEARS FOR A TRANSPLANT WHILE BEING ON DIALYSIS. I WAS PLACED IMMEDIATELY ON A STRICT ORGANIC CHANGE IN LIFESTYLE. IN ADDITION I WAS PLACED ON VARIOUS SUPPLEMENTS TO HELP BRING MY BODY BACK INTO BALANCE. ALSO DR. TONY REALIZED MY URGENT NEED FOR A DRY HEAT SAUNA TO HELP IN MY RECOVERY. DR. TONY AND LISA SET UP A MEETING WITH MY PASTOR DIEGO MESA. UPON HEARING HOW URGENT MY SITUATION WAS PASTOR DIEGO BLESSED ME WITH THE DRY HEAT SAUNA. IN THE MIDST OF THE STORM GOD HAS ALLOWED US TO BE BLESSED BY THEIR LOVE AND COMPASSION.
GOD HAS TRULY WORKED A MIRACLE IN MY LIFE, RECENTLY IT WAS DISCOVERED THAT MY REMAINING KIDNEY DOES NOT HAVE CANCER. IN ADDITION DUE TO THE TREATMENT I HAVE GOTTEN FROM DR. TONY AND LISA MY KIDNEY FUNCTION HAS INCREASED FROM 51% TO OVER 60%. I HAVE TRULY LEARNED THAT WHAT WE PUT INTO OUR TEMPLE WILL AFFECT OUR HEALTH. I FULLY UNDERSTAND THAT WE HAVE A MAJOR ROLE TO PLAY IN THE HEALING PROCESS AND THAT IT TAKES WORK AND COMMITMENT. DR.TONY AND LISA HAVE BEEN SO MUCH MORE THAN JUST DOCTORS. THEY TRULY CARE. I HAVE BEEN BLESSED BEYOND MEASURE BY THE TREATMENT AND FRIENDSHIP I HAVE FORMED WITH DR. TONY AND LISA. THEY ARE TRULY GODSEND AND I STRONGLY RECOMMENDED THEM.
SINCERELY,
CLAY ADKINS.
PHOTOS OF PASTOR CLAY AND HIS BEAUTIFUL WIFE