Matthew Hendrick – A 13 Year Old's Story to Health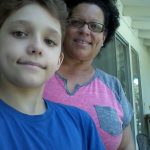 My name is Matthew, and I was diagnosed with Crohn's disease. (pictured left is Matthew Hendrick and his mother Hope)
It started with major stomachaches, vomiting, and a loss of energy to where I would sleep all day and night. I had to go to the emergency room and a few doctors gave me medicines that made me worse. My main doctor sent me to a counselor and she was finally asked by the counselor to send me to a G.I. doctor. After many months I saw the G.I. doctor only to receive  more medication that still made me sick.
Me and my mom were really discouraged, and I was tired of being sick, which was causing me a lot of anxiety that made the symptoms more intense.  I had been sick for more then 3 years and so sick that my mom arranged for me to go on a special school program (504 program at school) because I was missing so many days.  I was unable to participate in gym class which I really enjoy.
My mom remembered hearing about Dr. Tony through our church so my mom contacted him. On our way to see him my mom felt very discouraged but the minute we got there Dr. Tony and his wife Lisa made us feel a lot better.  They said there was a lot we could do to help me.  It made me feel so much better to hear they would help me. Both Dr. Tony and his wife Lisa spent so much time with us.  They showed me how my blood wasn't healthy and explained it was feeding toxins to my body which made me sick.  We learned how to change foods to help make me better and how to clean bad things from my body, like the pesticides sprayed near my school, to help me feel good again. We even saw my damaged red blood cells from the pesticides on the TV screen.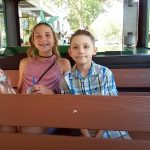 At first we thought it would be a huge plan but it was simple and that was encouraging.  Everyone, started to eat better. (pictured left is Matthew Hendrick and his 14-year old sister Angelique)
Dr. Tony and Lisa are kind and upbeat and I felt so comfortable with them. After one week I felt major relief and got my energy back and was able to return to school, not missing days anymore or sleeping all the time.  My mom and I followed Dr. Tony & Lisa's clean eating plan, along with the probiotics, the green synergy shakes, and the detox drink. Each week I felt better and better. The next time we came to see Dr. Tony and Lisa my blood looked so much better and I felt so much better. My blood no longer looked damaged from bad foods and pesticides. I'm so thankful we went to see them, and so is my mom.  Seems like more then me sometimes. I hope my story can help other kids learn how important good food is and not to be afraid to try new things for health.
Sincerely, Matthew and Hope