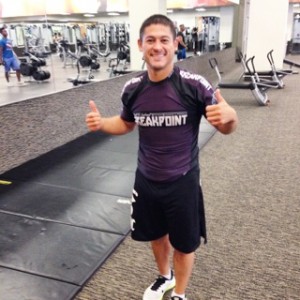 Alfredo Munoz is an amazing story of an immigrant, now a U.S. Citizen, that didn't give up and has turned each bump along the way into an opportunity for positive change for himself and for those he meets. His story is a journey in life full of determination, motivation and a quest for knowledge whereby defeat was not allowed; only solutions to obstacles were pursued. And it is these attribute that have allowed him to succeed in the sports arena, in his professional career and in life as a husband, father and son.
Dr. Antonacci met Alfredo at East Los Angeles College (ELAC) in 2011 when Alfredo enrolled in his class. Alfredo's thirst for information was so strong he would corner Dr. Antonacci after class and pepper him with intelligent, well though-out questions. When the semester was over, he continued to stay in contact with Dr. Antonacci, who was proud to mentor this intelligent, capable and very gifted young man.
After meeting Dr. Antonacci and still to this day; Alfredo continued to coach soccer, expanded the nutrition and exercise program with patients at the community center he works at and went on to become a high level athlete, winning world class, Brazilian Jiu-Jitsu Competitions. Alfredo is positive, upbeat and eager to plant and water the seeds of knowledge he has gained and to share the tools he has used on his journey to health and success. Lifestyle Quixotica is honored to know Alfredo and to share his story with others.
Alfredo Munoz – Personal Story of Success
I was born in Guatemala City, Guatamela. My father was a semi-professional soccer player and introduced him to the sport at 4 years old. When I turned 8, my father moved to Los Angeles, CA with the goal of creating a better life for his family. Two years later my mother joined him. The reunion was successful and a mere 14 days later I traveled from Guatemala to the U.S. The decision to move to the U.S., made by his mother, was bold. It was a pivotal and life-changing experience for me.
My mother immediately enrolled me in school, whereby I started the 4th grade. One year later my parents raised enough money to move out of the Ramona Gardens Project to East Los Angeles where I have resided ever since. I got involved with baseball, but my passion for soccer resurfaced and I joined the soccer team in 7th grade. My skills rapidly improved and by age 13 I joined a club team. I was selected to represent the All Star Team and had the privilege to wear the Captain Armband. Our team played the U.S. National Team and the El Salvador National Team.
Shortly thereafter I was invited to try-out for the Olympic Development Program (ODP) region 4. I represented the Southern California region and played in cities around the U.S. By senior year I received an invitation to try-out for the U.S. National Team. My world crumbled when I was told I could not represent the team because I had not yet obtained my U.S. Citizenship and was still considered an illegal immigrant.
I graduated from high school but did not pursue college at that time. At 19 years old I became a father and began working in a janitorial facility. My mother was a nurse assistant. At age 21, I looked at her and said, "This is not the life that I want to have". The next day, full of determination and motivation to better my world I called a vocational school requesting an appointment for enrollment for the 9-month Medical Assistant Program. Within a week I was enrolled in the program. I graduated with perfect attendance and was an honor roll student.
I did my internship at a community health center, providing 160 hours of service. I performed basic vital signs, set up trays and assisted with small surgery procedures. I also learned the laboratory and front office duties.
When my 160 hours were completed, full of determination and motivation, I asked the clinic manager for an opportunity to join the organization. She referred me to the East Los Angeles location and I was given an opportunity to start in the medical records department. Later I helped the front desk, the laboratory with blood draws and the dentist with extractions. Within a year I was offered the position of case manager. The case manager duties required me to assist with health education. This was the start of my search for information on health, nutrition and exercise. I educated patients on current chronic conditions such as diabetes, hypertension, cholesterol and obesity.
As my passion in health began to grow, I decided to do a 26.2mile marathon. I wanted to get back in shape. My first marathon took 4:58 minutes. And it is this marathon that motivated me to start eating healthy. I began to understand the importance nutrition played in one's ability to compete.
My thirst for the right information continued to grow. I went back to school to get my pre-requisites for a nursing degree and I continued to work with patients. I found that the nutrition curriculum I was given to teach patients was not generating the results needed. Many patients were not responding. I decided to add-in exercise. Before I knew it I was conducting an exercise class twice a week for one hour. Patients became motivated and eager to learn. I have been teaching this class for nearly 8 years now. Over the years, I expanded this class to include stretching, yoga, resistance training, and High Intensity Interval Training.
I met Dr. Antonacci in 2012 when I enrolled in health 7 to fulfill the prerequisites for the Nursing program. The story of how I decided to take the class is really interesting.  The Men's Athletic Department of East Los Angeles College hosted a special health and nutrition workshop that I attended. At the workshop, Dr. Antonacci did a demonstration on what the average American diet consisted of and contrasted it with a fresh juice made from carrots, celery, parsley, apple and ginger. It was very impactful for me as he took the fast food most of "us" students were consuming on a daily basis and put it in a blender. A McDonald's cheeseburger containing meat loaded with meat glue, yellow, cancer causing cheese, hybridized, tasteless tomatoes and unhealthy processed, sugar laden ketchup/condiments were the first thing he put it in a blender. Then he added french fries cooked in genetically modified oils and milk shakes and sodas full of processed sugars sure to bring on diabetes and added them to the mix. The fast food smelled awful, no one would taste it and of course we all instinctively knew it would be detrimental to our health long-term.   But the juice not only smelled good, it was an amazingly great tasting juice that actually fed the cells of the body without making one sick. The demonstration and information he conveyed to us on that day transformed the way I began to look at food and nutrition and the impact it had on health and fitness.
After the workshop I found out Dr. Antonacci was teaching Health 7, a sports and fitness nutrition class on Saturdays. I had been so impressed at what he presented at the workshop that I immediately enrolled in the class.  The first day of class I was hooked. The importance of nutrition and fitness is 100% real.  Input equals output. Everything Dr. Antonacci taught I followed and I realized health and nutrition is easy or complicated. Achieving health is easy if you focus on eating raw foods, whole foods and exercise. Complicated if we look for that magic bullet in pharmaceutical drugs and continue to eat processed, refined foods. A willingness to make lifestyle changes is critical to health.  Maintaining the status quo is not.
When I learned about Dr. Antonacci's amazing accomplishments of competing in 10-mile ocean swims and triathlons, training high level football college athletes with Jack Elway and studying body building with world champions like Frank Zane, I knew then he was the BEST to guide me. He knows what it takes to perform at the highest level.
I was eager to learn whatever I could about nutrition, fitness and training. My 1st competition was around the corner and I was about 10 lbs over my ideal weight.   I reached out to Dr. Antonacci for guidance. I did everything he instructed me to do and discovered his instructions helped me reach a goal I was unable to accomplish on my own at the time. I developed a passion for this lifestyle, especially because Dr. Antonacci had become my mentor and each day that passed us by I learned a little more from him.
I slowly began to clean and refine my diet. It is important to note that diet means being cautious about what you eat. Perfection did not happen in one day or one week. There was a time when I would only consume fresh fruits and vegetables, leaving out the grains. Other days I just ate grains and vegetables and when that combination didn't give me the results I needed I added in maybe grass fed beef and free ranged chicken. While learning about the nutritious value of food, my intake was all over the place. I was experimenting and figuring out how my body responded to various foods so that I could dial-in what gave me the best combination of strength, performance and energy.
Experiencing this is what made the journey more meaningful and exciting. Not knowing what was waiting for me became my tool of learning. Over time I learned how my body responds to food and how those foods impacted my athletic performance in competitions. As I began to challenge myself more, the competitions became more frequent. All the errors I was committing with my diet became clear. My body was in need for a variety of foods to thrive, to regenerate, to cure, to grow and to perform at its optimal level. The frequency of meals will alternate depending on one's lifestyle.
I took so much from Dr. Antonacci's class because I wanted to learn and you can do the same!  I have kept in touch with him because he has been a positive influence in my life and in my health goals and career. To this day I continue to look to him for guidance. I cannot stress the importance of healthy nutrition for optimal performance.
Further, I have been able to help many individuals because of the valuable information I learned from Dr. Antonacci.  I have expanded the health program at the community center, which has allowed patients to make more progress than they were with the original curriculum the center provided.  All the knowledge that you need is here in this health class taught by Dr. Antonacci; professor, doctor, athlete and mentor.
I've been training in Brazilian Jiu-Jitsu for a little over 4.5 years. Competing the last two years. I train 5-6 times per week. Jiu-jitsu is a lifestyle. It's a journey. When I first started to compete I lost every single match. There was a point that I just felt like giving up. Then I looked over my shoulder and said to myself, "I can't quit, what will I be teaching my patients, my daughter, and what kind of son, husband would I be?".  I didn't give up and now I consistently place in the top 3 for Brazilian Jiu-Jitsu competitions.
Brazilian Jiu-Jitsu, Weight Division-Light feather weight 127.5-141.5lbs, Purple Belt Rank
2015 Awards
NABJJ international Gi 2nd place
IBJJF Long beach Gi Pro 3rd
IBJJF Santa Cruz Pro Gi 3rd
NABJJ International NOGI 1st Light Feather Division
NOGI 3rd Open Division
Now I can proudly say I have made it to the podium very frequently. I am still searching for the number one spot in my weight division, but as always, I am not giving up. I continue to work towards the next step, the next goal. And you should too!
During this journey I developed my own nutrition curriculum dedicated to everything that Dr. Antonacci has taught me. And I have discovered that my nutrition intake is different today than it was 3 months ago or even what it will be 3 weeks from now as I have learned to listen to my body and give it what it needs today, not yesterday.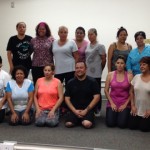 I learned that most of the patients could not recognize food groups or understand nutrition facts and portion size. They didn't know the difference between whole foods and raw foods versus highly refined and processed foods.  And it was these misinformed, poor nutritional lifestyle habits that led to the chronic conditions they were experiencing. I now help patients learn how to develop goals, stay disciplined and live a healthy lifestyle. I also include cooking demonstrations, and at the end patients get recognized by receiving a certificate/diploma of completion. After implementing this information into my exercise class, the empowerment patients received was outstanding.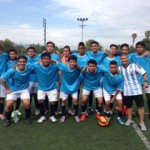 I also continue to coach High School Soccer at LACES High school. I've been coaching for 7 years. Coaching is a lot different than playing. It took some time for me to understand this simple truth. I knw I needed to be the leader so I decided to take some coaching clinics. I took the US SOCAL license E and 6 months later the Advance coaching certification for soccer. The past 4 years we made it to the playoffs. Every year we are getting closer. Last season we made it to the quarter finals. I decided to take the kids and put them on an AYSO BU19 league. We were the new team in the league and we made it to the championship round. We came short but it was a great experience. I was the youngest coach to take a group of kids to the championship and in the process I became a better coach, a mentor to most of the kids.
I didn't pursue my nursing career because I realized the medical field was not about health, but about disease management. They treat the symptoms versus addressing the root cause. In my current position, I can help teach many people how to live a healthy lifestyle. I focus on prevention and not treating. It is a lot easier to prevent than to treat.
I hope my story is an inspiration to you.  If you are student at ELAC, remember, it doesn't matter where you come from, what matters is what you do with the gifts you have and the opportunities that you make for yourself.  Choose a Goal and Get motivated. Motivation is needed in order to reach a goal. Motivation is a critical and can be utilized as a jumpstart. But it can vanish within a few days or even a few minutes. Usually it vanishes because there is no action plan.  An action plan is important because it gives us the daily action steps we must take to reach specific goals. Let discipline take over. Motivation, action steps and discipline are important.   Let them become part of your lifestyle.   I have been able to reach my goals by making these things an important part of my life and by incorporating nutrition as part of my lifestyle too, versus just a diet.
Remember the motto, "Building healthy lives one day at a time".
Alfredo Muñoz
Certified Fitness Trainer
Sports Fitness Nutrition
(323) 485-1944
YouTube Alfredo Munoz